As the world takes its first steps on the path to a complete reopening following the global shutdown due to the COVID-19 pandemic, it is important for business travel industry members to be prepared for a heavily altered global travel landscape.
Despite an understandable change in travel patterns due to the pandemic, at least one third of Americans said they planned to travel within three months after travel restrictions were lifted, according to an April survey.
So far, we've discussed the importance of support during a crisis, collaborating with account managers, implementing travel policy changes and understanding a new-look for hotel RFP processes. But another crucial aspect of post-pandemic travel is assuring traveler safety through technology and awareness.
Companies will need to present a unified and comprehensive traveler monitoring and messaging system to promote duty of care as travel schedules return to normal. This means monitoring travel status carefully while assuring compliance with company policy and travel restrictions.

Two World Travel, Inc. solutions were designed with these goals in mind. The first is our WorldWatch traveler monitoring system.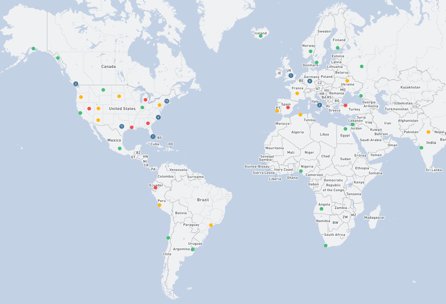 WorldWatch allows travel managers and arrangers to monitor traveler status and anticipate delays or disruptions in each individual itinerary. The system combines features such as an interactive risk-assessment map (shown above), real-time travel advisories and risk ratings, a flight board view that forecasts delays, and integrated risk management programs from sources such as the U.S. State Department and the Federal Aviation Administration.

Travel managers and arrangers can use WorldWatch to anticipate potential disruptions and work proactively to maintain traveler safety and efficiency.
World Travel also offers a COVID-19 destination messaging solution that supports rapid policy changes due to company-imposed travel restrictions and re-openings. The system provides custom traveler messaging with an option to carbon-copy additional recipients, such as an organization's risk department. COVID-19 messages can also be configured to prevent ticketing or cancel reservations based on bookings to or from any country, state, or airport location.
Travel managers can quickly apply changes in company travel policies by working with their account manager to update their COVID-19 messaging solution configuration. Once submitted, changes are live the next business day.
Traveler safety and duty of care concerns have always been our top priority. As global travel returns to its pre-pandemic schedule, these concerns will be even more important. Through a combination of policy adherence and monitoring, however, travelers can return to the skies, rails, and road with the assurance of close-by support.