Governmental restrictions in response to the COVID-19 pandemic are lifting or loosening across the world, and most localities have outlined a clear path to full reopening as pandemic projections change. These official guidelines and plans make some business projections and predictions clear.
But the travel industry faces a more uncertain timeline governed by company policy and leisure demand. World Travel, Inc. reached out to some of our clients and colleagues with a nine-question survey to hear their thoughts on the return of business and leisure travel, and when industry professionals expect travelers to return to the skies, rails, and roads.
Our survey indicated that most clients, approximately 60 percent, still couldn't confirm when their brick-and-mortar office will reopen. Many clients, however, indicated that state and local regulations would allow their offices to reopen within the next month or later this summer.
Survey respondents had multiple predictions for the return of essential travel. While some called for essential travel to return within the next month, most expected the wait to extend through the next several months.
Some respondents commented that essential travel would be redefined within their company travel policies, while others focused on client need as the primary driver behind the resumption of essential trips.
Respondents were even more cautious when predicting the return of non-essential travel, with most predicting that it world take more than one month for non-essential travel to return to pre-pandemic levels.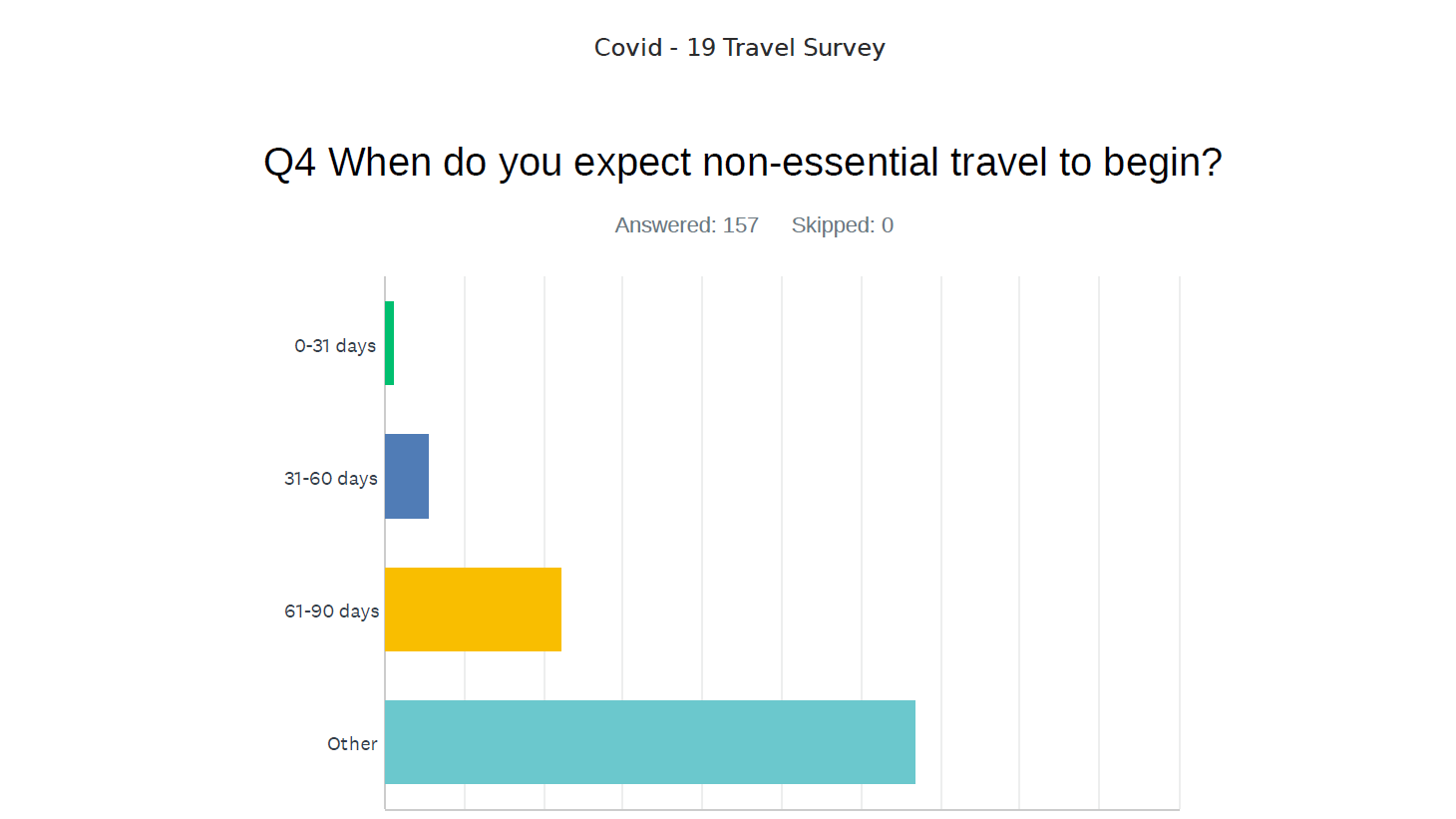 Although almost 50% of respondents said that duty of care would be their primary concern as travel resumed, traveler service and support as well as cost savings were also increasingly important according to their responses.
Just over half of respondents said that they would not be making changes in their travel policy in the wake of the pandemic shutdown, but close to 60% said that they would now require an approval process. Some companies, however, implemented an approval process before the pandemic.
World Travel is grateful to the clients and colleagues who took the time to complete this survey and share their opinions on travel's new normal. If you would like access to the full survey results please reach out to your account manager or business development manager.
* this survey was conducted in late May 2020 and represents client responses during that time. We will be conducting another client survey in July, 2020.